The Coromandel offers some stunning scenic drives and this is certainly one of them. Take the highway 25 towards Kuaotunu, turn right into the village, past the shops and up the steep road Black Jack Road towards Otama Beach. This gives you some fantastic shots of the coastline.
Otama Beach is one of the few natural dune landscapes left in New Zealand and the beach itself is the finest, whitest quartz sand. There is very little housing in this bay and you may find you have the 2km long beach all to yourself!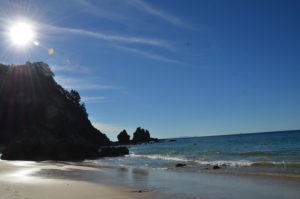 Driving further along the road you will come to Opito Bay with a seemingly endless beach flanked by huge, shady Pohutukawa trees. This beach is famous for scallops which can be picked up off the ocean floor about 100m offshore and 8-10m down (diving gear essential!).
On your way back make sure you stop at Luke's Kitchen for a drink and a bite to eat. This is a funky restaurant not far from the beach and one of the best places to take in a magnificent sunset.